Olá amigos como estão?
(Hello friends how are you going?)
Chegou a hora da maior competição interclubes da EUROPA iniciar!
(It's time for the biggest competition between clubs in Europe start!)
Com os grupos já definidos, podemos analisar alguns confrontos bem interessante, bem como analisar os grupos mais fortes.
(The groups are already done, and now we can see very interesting games).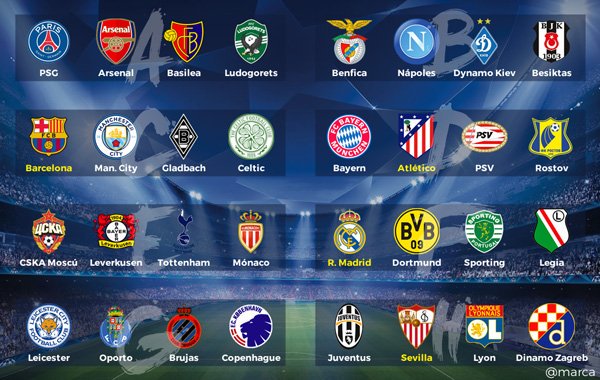 Podemos ver no Grupo A dois times com certo favoritismo: Acho que a sequência seguirá a mesma ordem do grupo: Paris Saint Germain em primeiro e Arsenal em segundo.
(We can see in group A two favorite teams. I think the order of the qualification will be the same as you can see in the picture).
No grupo B Benfica e Napoli são os times mais fortes em teoria, mas não são completos favoritos.
(On group B side, Benfica and Napoli are stronger than the others, at least in theory, at the same time they are not big favorites).
No grupo C dois fortíssimos candidatos ao título, e Pepe Guardiola encontrando o Barça logo na fase de grupos na foi um presente bom.
(Group C has two of the favorites to win the title, and Pepe Guardiola meeting Barça at the begining of his career in City was not a big gift.)
No grupo D o reencontro da semi final do ano anterior: Bayern x Atlético de Madrid. Os dois passam de fase.
(Group D we will see a rematch of last season's semifinals: Bayern x Atletico de Madrid. Both will pass for the 1/16).
Grupo E, um dos mais equilibrados na minha opinião, nenhum franco favorito, talvez o CSKA seja o menos qualificado.
(Group E is the most balanced in my opinion, none of them are favorites, maybe CSKA is the worst of the group).
Grupo F não está muito difícil para o Real Madrid, talvez o Borussia seja um adversário mais forte, os demais são fracos.
(Group F it's not dificult for Real Madrid, maybe Borussia can be a hard opponent but the others are weak).
Grupo G o estreante Leicester contra adversários de nível mais fraco na competição. O Porto passará mas não tenho certeza sobre Leicester.
(Group G the first apearence Leicester against some of the weakest teams of competiton. Porto will pass for the 1/16, but I'm not sure about Leicester).
Grupo H seria o famoso grupo da morte, talvez seja o que o Sevilla queira para se qualificar para Europa League xD. O Dínamo Zagreb é o mais fraco. Juve passará, a outra vaga não se sabe...
(Group H, in my opinion the most high level balanced group. I think it was good for Sevilla because then, they can qualify for EUROPA LEAGUE xD. Dinamo Zagreb is the weakest of the group. Juventus will pass for 1/16, the other team who will qualify we don't know).
E aí o que acharam? Deixem a opinião de vocês e vamos nos divertir!
(What is your opinion? Leave the comments below and lets have fun!)